Healthy Cleaning Process
Our Healthy Cleaning Process was developed over a 25 years as our best-practices that we improved over the years to become more efficient, effective in cleaning, disinfecting and increasing the quality of our Superior Maid Service. We spent a considerable amount of time perfecting our Healthy Cleaning Process to integrate newest advanced cleaning techniques, most environmental friendly cleaning products, the best cleaning equipment and honing our customer service to strive for 100% satisfaction with our service.
The purpose of our unique process is to clean and sanitize your home, so you and your family can enjoy a Healthy Living Environment.
Get Our Free Estimate
We Follow CDC and Florida Health Department Guidelines: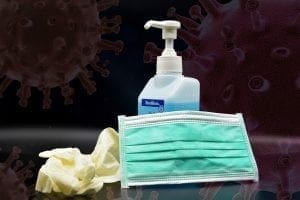 We wash our hands with soap for at least 20 seconds & use an alcohol-based hand sanitizer before and after each service call
Keep a social distance of 6 feet
We wear masks, gloves & shoe covering while in the building
Employees staying home if they feel sick or have COVID-19 Symptoms
We instruct customers to notify us in advance for any concerns or want us to take special precautions
We ensure our maids are educated about the current COVID-19 infections, contagion and measures of prevention
We comply with CDC, Hillsborough County and Florida State guidelines
We have Developed the Best Healthy Cleaning Process
Maids are organized to do 2 types of cleaning: Dry Cleaning and Wet Cleaning
Dry Cleaning is performed first, then followed by Wet Cleaning that also includes disinfectant
Wet Cleaning includes cleaning and disinfecting of light switches, doorknobs, bathroom surfaces, counters and common touch areas
We clean and disinfect using Eco-friendly cleaning product that we have personally researched and tested
Cleaning products used in our Disinfection Services meet Environmental Protection Association (EPA) registered disinfecting standards by demonstrating to kill bacteria. mold and viruses, as well as other micro-organisms.
Our advance cleaning methods are compliant with EPA cleaning standards and CDC guidelines.
We replace all cleaning cloths, mop-heads, cleaning pads, sponges and shoe covering and disposable gloves before going to the next home or business
Our cleaning equipment include vacuum cleaners with HEPA filters, using microfiber mops, paper towels and silver embedded cloths.
We use our exclusive "Double Disinfectant System". We hand wipe all wet areas down with approved sanitary and disinfectant products, then we wipe it down with a special cloth with embedded silver lining to kill bacteria and virus. It's to ensure that no viruses and bacteria are alive when we finish cleaning your home.
We use our own comprehensive Quality-Assurance Checklist to inspect and ensure it's done right
We are the best because we do random "Quality Control Audits". We check in on our worker's unannounced to make sure that they are doing their best job, to ensure exceptional quality service.
We have a 48 hour guarantee on all work that is done by our employees. For any reason, if you don't like it, we will come back and fix it, with a smile!
Our Healthy Cleaning Process includes a deep cleaning plan that focuses on detail clean of designated rooms on a rotating basis.
We also communicate periodically the status of our cleaning and report anything unusual
Our team of  maids work together to keep your home clean and healthy
Get Our Free Estimate