Online Contact Form
Please complete the form below.
"*" indicates required fields
Frequently Asked Questions
How often should I have my home cleaned?
Valrico Home Maid Service offers regular house cleaning on a weekly, bi-weekly, and monthly basis.
In addition, we are available for special one-time cleans. These include move-in/move-outs, deep cleans, seasonal cleaning, and new construction.
Our most popular service is bi-weekly, but we will schedule according to your needs.
Do you guarantee your work?
Absolutely. We have a 100% satisfaction guaranteed policy.
Our goal is to give you the best cleaning possible each time. If something is not done to your satisfaction, call us within 48 hours and we will correct it!
How do I know I can trust the people you send to my home?
We are very particular about who we hire.
Every Valrico Home Maid service employee undergoes a rigorous screening process that includes extremely thorough criminal background checks and vetted for drugs. Additionally, all Valrico Home Maid service employees are fully insured and bonded.
Our employees are all given our training and how to use our best-practices to meet our demanding standards, and we regularly conduct quality inspection checks.
Trust is a critical component of our business. We pride ourselves on having earned the trust of many loyal customers throughout the many years of our company's success.
What if something in my home gets damaged?
In the unfortunate event that a breakage occurs, we will promptly make every effort to have the item repaired or replaced. All Valrico Home Maid service employees are fully insured to guarantee the safety of your possessions.
Will I always have the same house cleaner?
We want you to enjoy the peace of mind in your service that allows you to never think twice about it. We make every effort to send the same cleaner to your home for each visit.
Our goal is to provide you with consistency no matter what; even if circumstances demand a staffing change. Every employee is extensively trained to utilize the same efficient, effective cleaning techniques.
Do I have to be home when the cleaner comes?
You do not need to be home, although of course, you're welcome to be.
Many of our customers provide us with a key to their home and, when necessary, alarm codes. We keep your keys and access information extremely secure.
Do I have to sign a contract?
No. There are no contracts to sign. We are happy to earn your business each time we clean.
How do I pay for my cleaning?
Payment is due the day the service is performed. You may pay by cash, check, Visa, or Mastercard.
Many customers leave a check, payable to Valrico Home Maid service, on their kitchen table or countertop. For your convenience, if you prefer paying by credit card, a number may be left on file with us to use for each cleaning.
One-time cleans require a credit card or cash payment.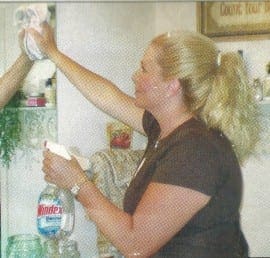 Christine, owner of Valrico Home Maid Service, can be directly contacted by customers.
Get Our Consultation
Our Free Expert Consultation and Advice
If you have any questions or want to talk about different cleaning options available or discuss your needs and how we can help. Please don't hesitate to contact for a free consultation.
Call us at
(813) 325-4985