Our Professional Disinfection Service
Valrico Home Maid Service offers a high-quality, unique disinfection service. We use state-of-the-art equipment to apply our EPA-approved sanitizers using the advanced Electrostatic Sprayers and adhere to CDC guidelines.
We offer this sanitizing spray service to eliminate a wide arrange of micro-organisms (that include: mold, bacteria, an assortment of different viruses, and especially COVID-19).
Our Disinfection Service is for Homes and Businesses such as retail stores, schools, offices, churches, etc. Our pricing starts at 4 cents a square foot.
If you have a home or business that you want to be treated for COVID-19, please call us for our free estimate at (813) 325-4985 or click on the Free Quote button.
What Makes Our Professional Disinfection Service Better?
Electrostatic sprayers are a superior method of delivering disinfectant and the key reason why we provide a better disinfection service. It releases ionized sanitizer particles with an electrostatic charge that encourages particles to spread out, providing complete coverage on the targeted surface.
As seen in the diagram to the right, these sprayers atomize the sanitizing spray as it passes over an internal electrode, giving the particles a positive charge that adheres to the surfaces we target. Additionally, the charged particles don't stick to each other, which results in the sanitizer spreading out evenly to coat the target surface.
Effective and EPA Approved
Our Professional Disinfection Service is more effective than most of our competitors for home or business. It's primarily due to our disinfectant agent (EPA Reg# 87508-89334) and 360-degree sanitizing.
Hence, our service excels in delivering an effective deodorizer, disinfectant, fungicide, and general-purpose anti-microbial that eliminates  99.99% of molds, bacteria, and viruses. Also, our disinfectant is EPA approved to eliminate Covid-19, among many other viruses.
Get Our Free Estimate
Coronavirus Free
With our powerful Professional Disinfection Service, you can be sure your business or home is Coronavirus Free when our staff leaves from the premise. The purpose of our service is to disinfect and sanitize your business or home, so you can feel confident that the inside is a Germ-Free Healthy Environment. Our Disinfection Service thoroughly disinfects every surface, from high-traffic areas to frequently touch surfaces to areas with a high propensity of living harmful microorganisms such as in the kitchen and bathrooms.
Coronavirus is Spread by Airborne Droplets and Contact Surfaces
Although the Coronavirus spreads primarily through droplets in the air when someone coughs or sneezes, scientists have also determined it can be contracted by someone touching a contaminated surface and then touching their eyes, nose, or mouth.
For airborne Coronavirus, we recommend a UV Light Indoor Air Quality System that's installed in your AC Air Handler. The UV Light rays provide you with chemical-free air while reducing indoor pollution and killing mold, bacteria, and viruses, including the Coronavirus. To learn more, click on Can an AC System Kill the Coronavirus?
For contact surfaces contaminated by the Coronavirus, our Disinfection Service will eradicate the Coronavirus, as well as micro-organisms such as mold, bacteria, and other viruses.
Coronavirus Can Live on Contact Surfaces
A recent study in the New England Journal of Medicine reported that Coronavirus can remain suspended in the air for up to three hours. They can also live on various surfaces for up to 72 hours, including:
Copper: Up to 4 hours
Cardboard: Up to 24 hours
Plastic: 2 to 3 days
Stainless steel: 2 to 3 days
Removing Coronavirus from Common Contact Areas
The Centers for Disease Control and Prevention (CDC) advises that routine cleaning for most areas of a facility. However, given the length of time, the coronavirus can linger on certain surfaces, some commonly used items may require more frequent cleaning, as often as several times each day. These include:
Doorknobs
Elevator buttons
Light switches
Faucet handles
Publicly used telephones
Computer monitors, mouse, and keyboards
Countertops and conference tables
Cafeteria tables, coffee pots, and vending equipment
Additional areas unique to your facility may also require frequent cleaning
Extra Precautions to Take to Prevent Infection
Consider providing disinfecting wipes to employees or family members and have them available in shared spaces such as entrances, kitchens, conference rooms, group workspaces, the cafeteria, and other social gathering areas.
When you received a package from Amazon, USP, FedEx, or UPS, wipe the package with disinfecting wipes and then wash your hands.
Frequently wipe with disinfectant common contact surfaces that are touched by people that enter the business or home from the outside that may come in contact with coronavirus.
The CDC also suggests temporarily removing items such as extra chairs, area rugs, etc., to reduce objects that require cleaning.
Our Disinfection Service is a 2-Step Process:
Directed Mist – Our application of the disinfect is a fine-mist of droplet form that's applied to targeted surfaces. We thoroughly distribute the disinfect across a large area to all exposed surfaces.

Disinfect Remains – We don't wipe down surfaces. After the disinfect dries with no residue or poisonous residuals (in a few minutes), all surfaces are protected from contamination. This method is very effective for high-touch contact surfaces such as door handles, faucet handles, knobs, applicant surfaces and controls, and light switches
We Go Way Beyond Typical Maid Service
After our Disinfection Service, we will continue with our maid service of detail-cleaning and with our rotating deep cleaning plan, so your home remains at a very high level of cleanliness, to stay a Healthy Home.

Our Disinfection Service may be performed one-time or periodically every week, bi-weekly or monthly with or without our excellent maid service.

We offer 100% satisfaction guaranteed. If for any reason, you're unhappy with the results of our service, we will make it right.
Trusted Professional Disinfectant Service in Tampa Bay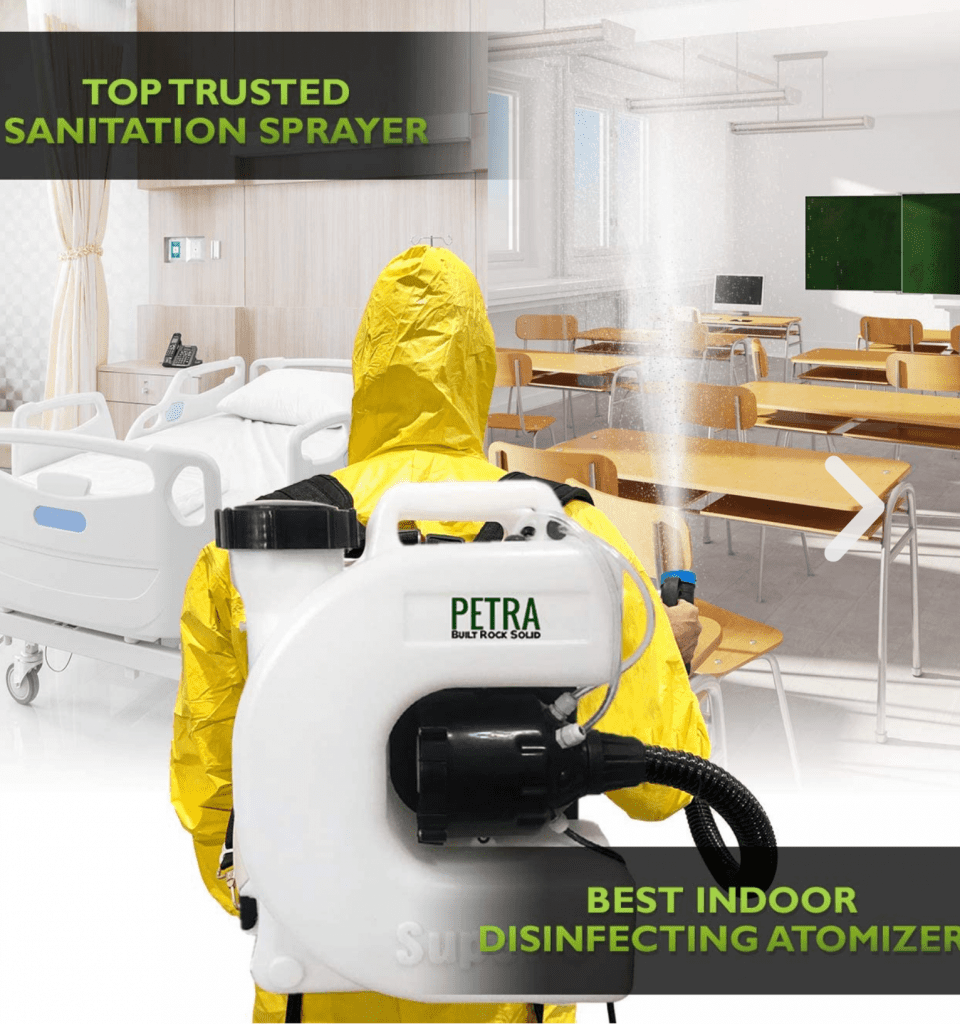 Safe Disinfectant: We use disinfectant that has a basic chemical formula used to purify drinking water.
Our disinfectant is an EPA-registered, liquid deodorizer, disinfectant, and fungicide used for hospitals on non-porous surfaces. The disinfectant spray leaves no harmful residue.
Frequently Asked Questions
What is the Cost of Our Disinfection Service?
Our rates start at 10 cents per square foot.
What Should I Expect?
When your disinfectant technician arrives at your home or business they will first inspect the areas to be treated making sure your space is properly prepared for an effective treatment.
Do I have to Evacuate the Premise during a Treatment?
Yes. It's recommended you leave the treatment area while we spray. Part of the preparation is to un-plug any simple electronic devices, put away papers that may get damp.
Do I have to Wipe Surfaces once it is Applied?
NO. In fact, do not wipe the product off treated surfaces, just let it dry. After the product dries (in about an hour) the treated surface is protected from contamination. It is alright to clean a treated surface afterward but do not use any petroleum or acid-based cleaners as these can cause the spray protection to degrade.
Does the Premise have to be Deep Clean before a Treatment?
You don't need to deep clean before we arrive, but a bit of cleaning up will ensure better coverage. Please note that we will be opening doors/cabinets to ensure the electrostatic mist reaches all surfaces. If you have any preferred items to clean, let us know.
For our regular customers, we will arrange for this Disinfection Services after our recurring maid service.
How Long Does It Take?
For businesses, we recommend our Disinfection Service be applied after-business-hours. The whole process can be completed in the time it takes to spray the premise and allow one hour for drying.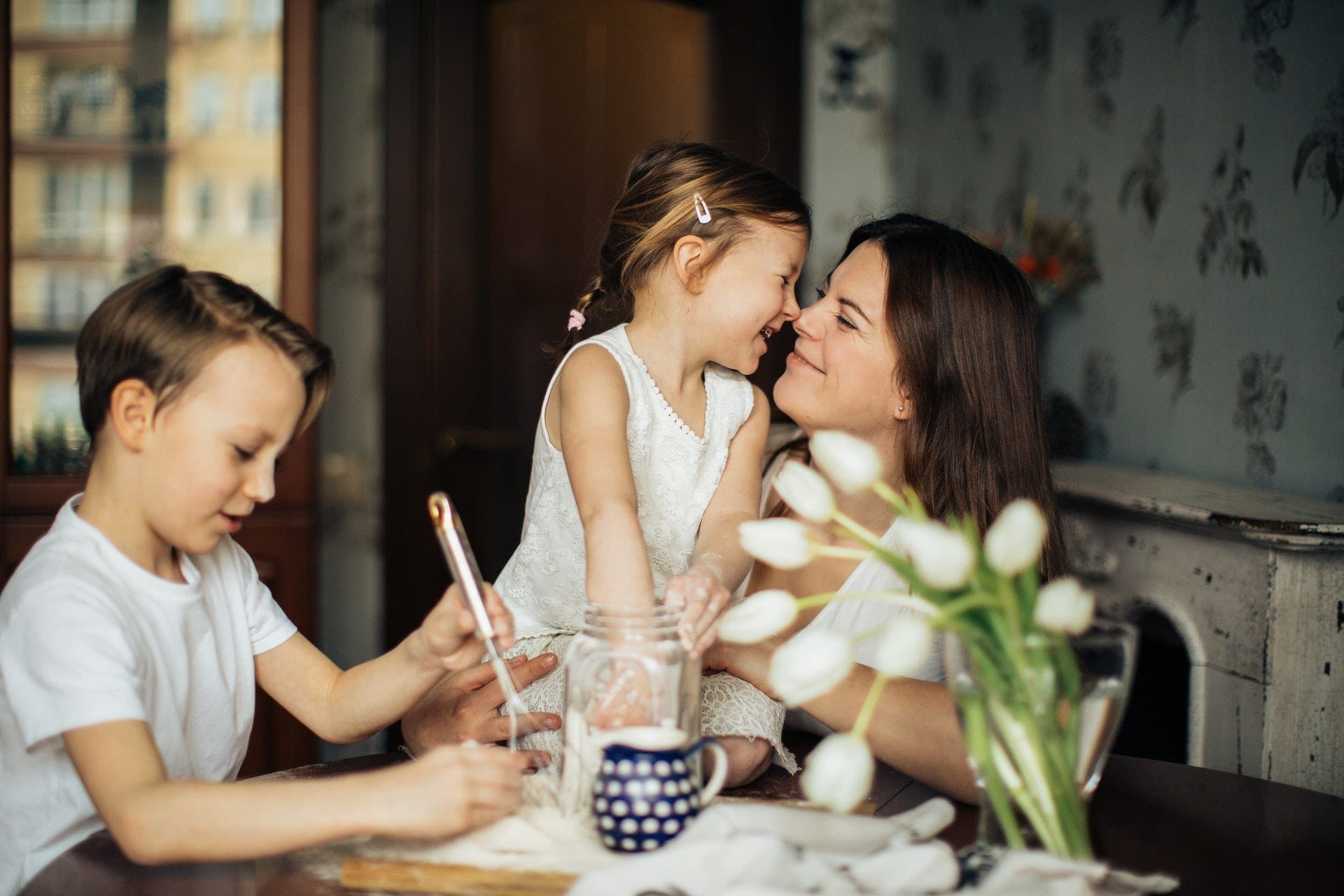 Your Home can be Sanitized, Clean and Healthy for your family